Mace Water Project
We all agree one of the most precious aspects of our community is our system of waterways and lakes. Unfortunately, the system that feeds our water system is failing – invaded by tree roots and eroded over time. This is the system that not only feeds our lakes but also provides the irrigation water for our lawns and common areas. It's increasingly expensive to clear and maintain the long-term health of our water system. In this system – water travels over 1.5 miles in an underground pipe that is living on borrowed time. The pipeline runs from the south channel of the Boise River, under Island Woods, under Eagle Road and Two Rivers. The route of the pipeline can be seen below. The pipe is buried under personal yards, under berms and many large trees. The Mace water volume drastically decreased in 2022, and a pipe cleaning/repair company was hired to run a video camera through this pipe. They found several high risk issues with the pipe, including cracks, large root intrusions and failed joints. Roots were cleared in some critical areas, but no pipe repairs were made. This leaves Mace and our neighboring HOAs at risk. Should this pipeline fail, it could cause major issues and expense for Island Woods, Two Rivers and Mace. The Mace Board and the Waterways committee decided that the risk is too high, the short and long term costs will be great, and we needed to consider other alternatives to ensure an ongoing water supply.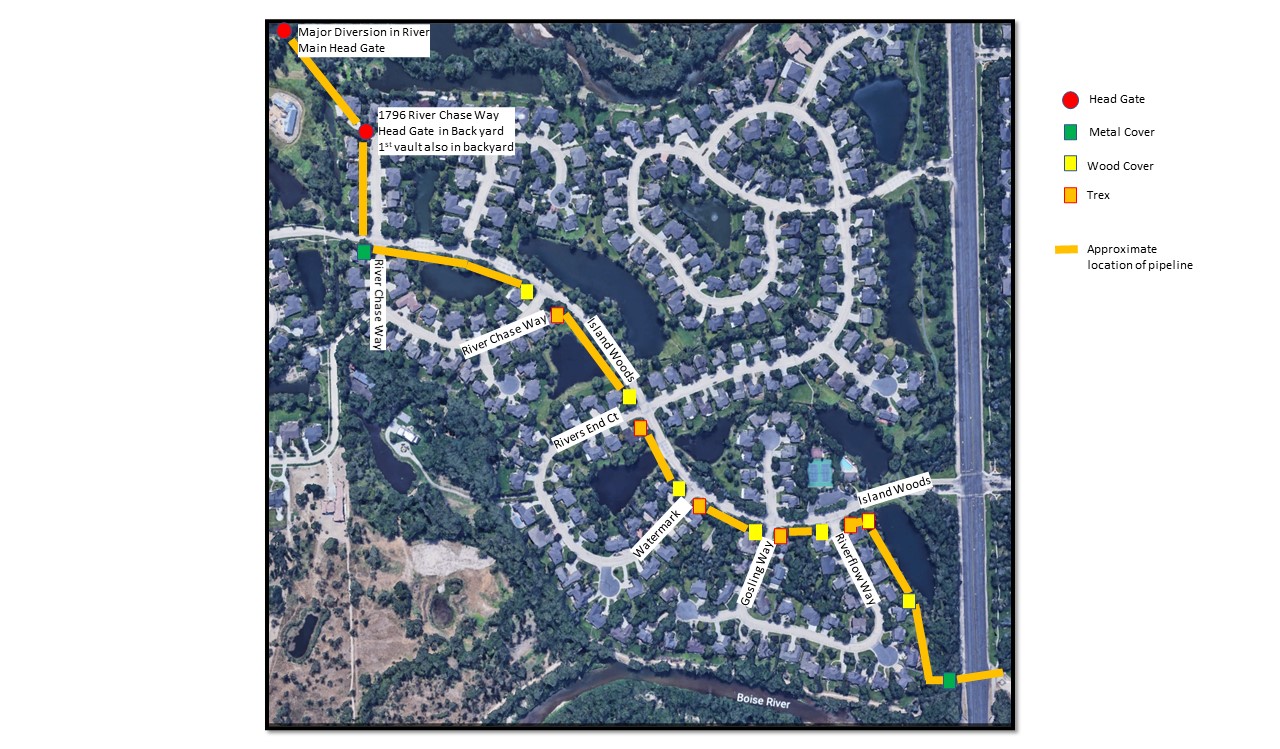 After discussions with the pipe company and a review of the risk and ongoing costs, the Mace board has worked with all the appropriate city and county organizations, has consulted water experts, and has decided to move to an alternative design. We will move our water source close to Mace, via the North Channel, and construct a new diversion. This new diversion will be constructed in the area north of the green belt and the Mace Mace ditch, but south of Old Mace road in the area of the bend.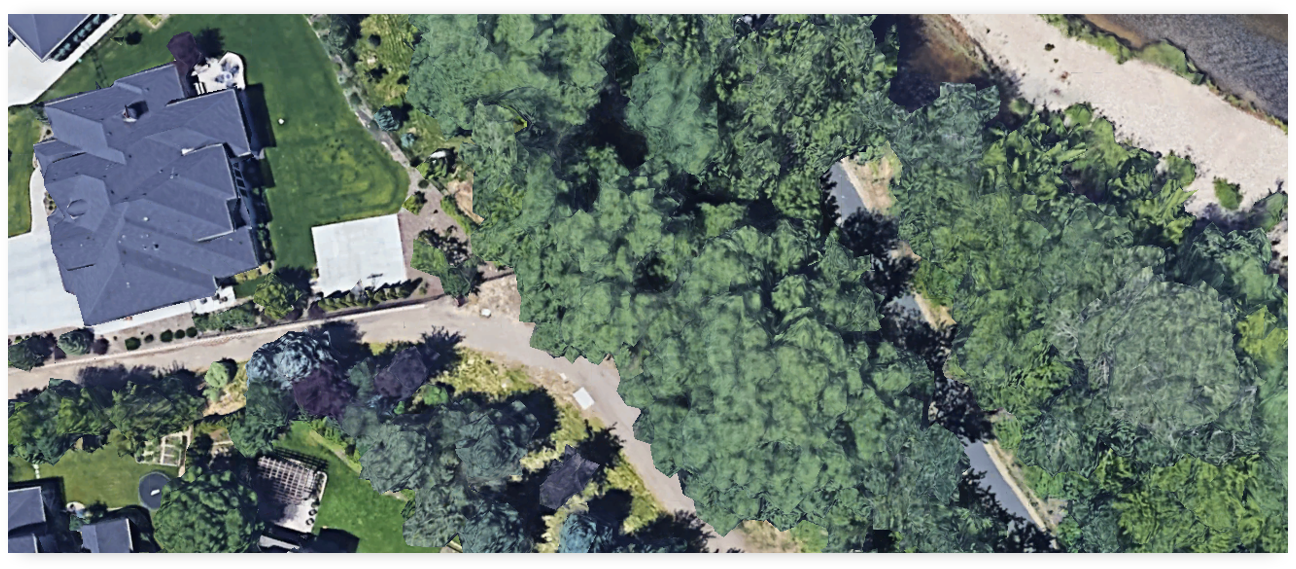 We have had engineering done to ensure we have the appropriate volume needed for Mace. We hope to only have to construct a single wet well to capture the river water that is just below our feet. We are allowing for two wells just in case a second is needed.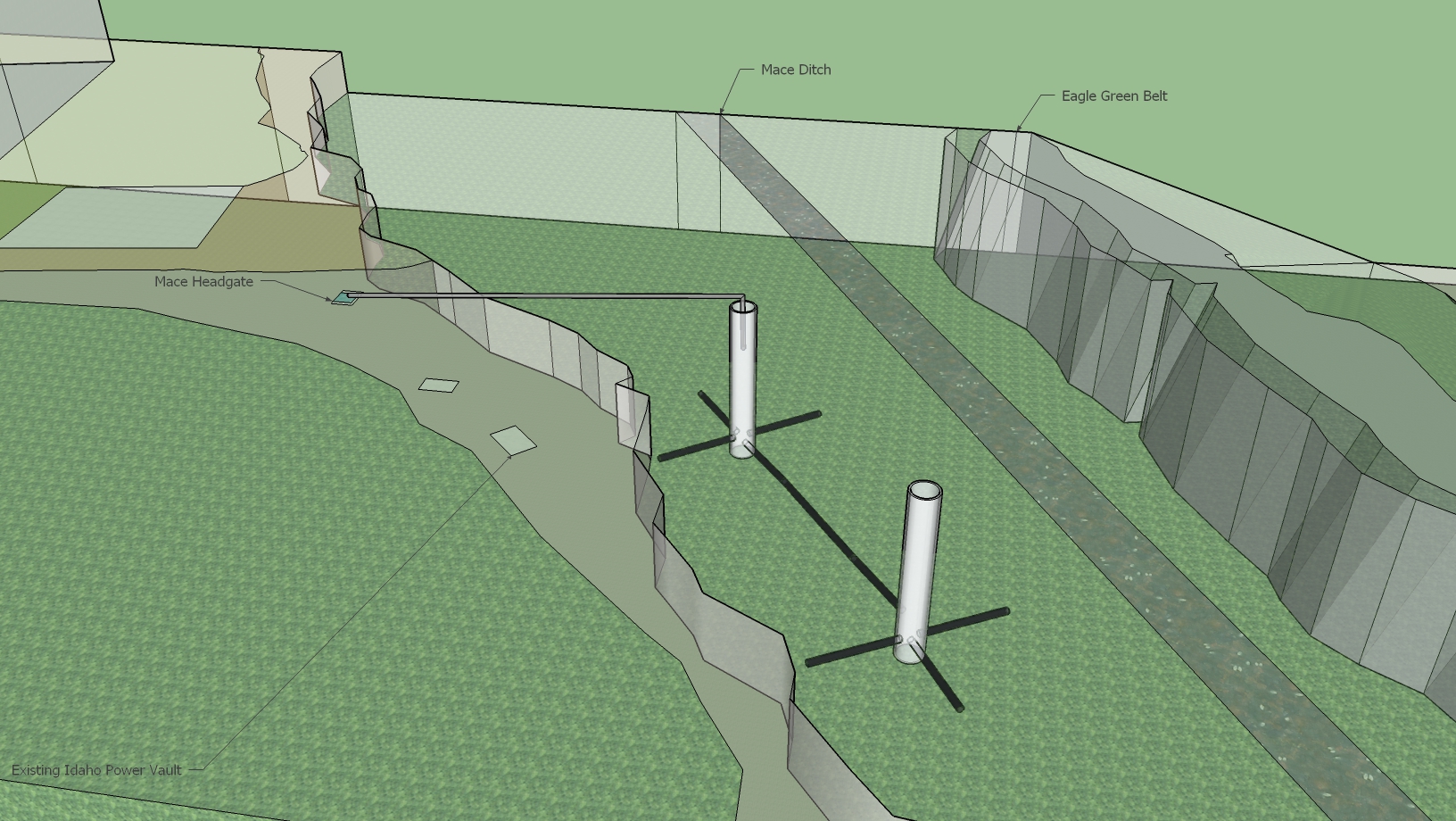 FAQ's
Who came up with this plan?
The Waterways committee has worked closely with our engineering company, the water master, and IDWR on selecting from several designs. We worked with City of Eagle, IDWR and the Army Corp of Engineers to make sure we have all the appropriate engineering complete and have all the necessary permits to move forward with the selected plan. We have also worked closely with Island Woods HOA (the majority of the pipeline runs under their property) and Dr Pipeline to ensure full knowledge of this situation.
When will we start construction?
We are ready to roll now. We have selected a construction contractor (St. Clair Construction), and a pump company who specializes in wet wells (Dan's pump and filter), and we have an approved work order from Idaho Power to get the electricity to where we need it. We should see Idaho Power workers in the next couple of weeks followed by St. Clair construction in the middle of November.
How will we pay for this?
All of the Mace Water Project costs are to be covered from irrigation assessments. The 2024 irrigation assessment will have about 20-30% of construction costs which have occurred in 2023. This will result in a slightly higher irrigation assessment in for 2024 – you should see this assessment estimation coming from Park Pointe before the end of the year. As in previous years, the assessment will be paid in March of next year. The balance of the costs for the Mace Water Project will be incurred in January and February so these will be accounted for as 2024 irrigation expenses to be assessed in 2025.
When will it be done?
We expect to be running Mace on the new water system when we can turn on water in April. The construction on this project and the entire installation should be much earlier than April.
What happens to the old pipeline?
We will stop taking water in the old pipeline as soon as we are up and running on our new system. Our pipeline company has consulted with government authorities and we will not need to do any additional work to decommission the old pipeline. We will simply stop taking water from the South channel and no water will be allowed to flow through the old pipeline. Any additional issues or risks along that old pipe, are the responsibility of the HOAs under which the pipe runs.